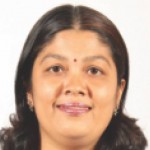 Name:

Prof.(Dr.) Supriya Bandi

Designation:

Asst. Prof.

Qualification:

Ph.D., M.Com., ICWAI
Prof. Supriya Bandi is a faculty in the area of commerce. Prior to joining MRSC, Indore, She was associated with shri cloth Market Institute of Professional Sciences and with progressive Education school. She is pursuing her Ph.D. for DAVV Indore.
Prof. Supriya Bandi also has Experience in the corporate sector. She has worked with Siemens Ltd. bai & with premium capital market Inv. Ltd, Indore & has handled various share Market operations. Her areas of interest include Management and costing. Prof. Supriya Bandi ahd presented & published research papers at national conferences.