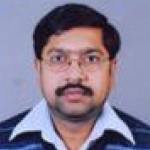 Name:

Prof.(Dr.) Lal Kumar

Designation:

Asst. Prof.

Qualification:

Ph.D., M.Sc.(Chem.)
Prof. Lal Kumar Chandel did his Ph.D. in chemistry. His research topic was "Innovative studies on analytical aspects of some synthesized coumarin and calix[n]arenes" from Devi Ahilya Vishwavidyalaya, Indore in the year 2011.
Dr. Chandel has received fellowship in the DST research project from Department of Science and Technology, Govt. of India as JRF-SRF.